Click pentru a vizualiza in browser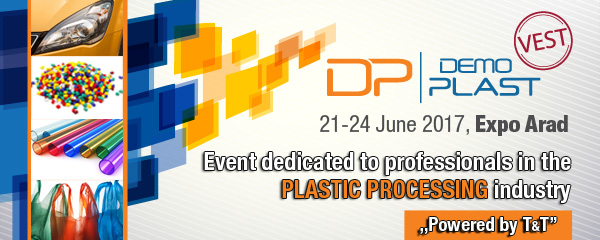 ANOTHER KIND OF event dedicated to the specialists in the plastics, rubber and composite material processing industry
DEMO PLAST VEST
21st -24th June 2017, EXPO ARAD

Organized by the ''T&T – Tehnica si Tehnologie" magazine, in the area with the highest density of client companies in the field, and benefitting from the confidence and support of some important partners, DEMO PLAST VEST proves to be the AWAITED event of an industry in full expansion. Just as DEMO METAL restored confidence and hope that the participation in such an event is the best opportunity available to the professionals in the industry, similarly, DEMO PLAST brings back the desire of those involved in the field to participate in the event of their industry. With a new approach focusing on business development and consolidation by creating new connections between people and companies, DEMO PLAST VEST is the LIVE event of a dynamic industry with implications ever deeper in other industrial sectors. Don't miss it!

More details:
Tel: (+40) 753 317 247
E-mail: [email protected]
Site: www.demoplast.ro

Gelu MATEESCU, General Director Leman Industrie, initiator of The Centre of Competences in Plastics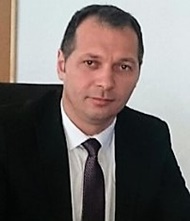 "The Timisoara Centre of Competences in Plastics, via Profimatt association for professional orientation and training,welcomes the initiative of Tehnic Media to organize an exhibition in the field of plastics processing in the West of the country, in Arad.
In the West of the country, there is a high concentration of manufacturing companies active in the field of processing plastics and other associated materials, being a representative region of Romania. More than that, the sector is continually growing and becoming ever more competitive. The Centre of Competences in Plastics supports the companies in the field to increase their employees' competences via professional trainings and improve competitiveness via research and development projects and process optimization. The debates and meetings to take place at DEMO PLAST VEST will help us understand the needs of the companies and will equally help companies to find solutions in order to improve competences and competitiveness. We are waiting for you at DEMO PLAST VEST!".

Raluca CIBU-BUZAC, Director Regional Politics and Internalization Office, Consortium Coordinator Ro-Boost SMEs
"The Agency for Regional Development West, as the coordinator of Enterprise Europe Network for the western and south-western regions of Romania, and AUTOMOTIVEST Cluster appreciate the initiative of Tehnic Media to join the DEMO METAL VEST and DEMO PLAST VEST 2017 events. Also, we are delighted by the scale and professionalism of these two events, as we noticed with the organization of Tehnic Media events of the previous years. From our point of view, we shall be happy to take part in both events, to organize a brokerage event within DEMO PLAST VEST, to be present with the EEN offer of services and to present a few examples of the impact these services may generate for the companies in our region".


Peter HOCHMUTH, President, Banat German Economy Club Association
'" Our members are very interested in this initiative. It is for the first time when two important fairs take place in the field of technology and industry – metal and plastics– West of the country, in Arad. Many of our members, and not only, work in these fields. Being one of the most important industrial regions of Romania, the Banat hosts hundreds of enterprises focused on the industry, national and international small and medium sized enterprises, for which such events are a very good opportunity to exchange know-how. We wish good luck to the organizers and participants alike!"



Acest mesaj va este transmis de TEHNIC MEDIA, editorul revistei T&T-Tehnica si Tehnologie. El nu poate fi catalogat drept SPAM, deoarece contine datele de contact ale expeditorului si metoda de dezabonare, nu va implica financiar si are scop de informare.

Adresa dumneavoastra de e-mail figureaza in baza noastra de date dintr-unul din urmatoarele motive: sunteti cititorul nostru, ne-ati oferit datele de contact la unul din evenimentele de specialitate la care ati participat, a fost gasita pe un site public sau a fost publicata intr-unul din ghidurile de afaceri existente in Romania.

Daca doriti sa nu mai primiti acest newsletter in viitor, va rugam sa folositi linkul de dezabonare.