Click pentru a vizualiza in browser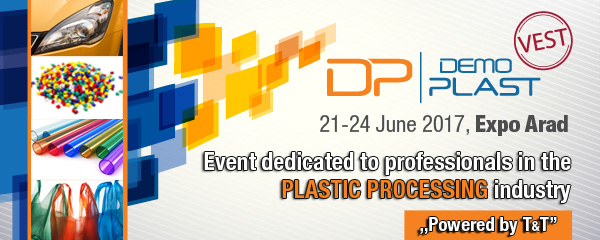 DEMO PLAST VEST, a long awaited event!
Book your booth at DEMO PLAST VEST, the event that brings new business opportunities in a strongly industrialized area where events such as this one are welcomed by the entire community. Furthermore, this is a continuously developing industry. (Below, you will find statements from a number of major industry leaders.)

DEMO PLAST VEST (Expo & Forum), an event dedicated to plastic products, rubber and composite materials industry professionals, will take place between the 21st and 24th of June, at Expo Arad. The event is based on the same concept as DEMO METAL – an event that was very successful for the past 5 editions, regardless of its chosen location (Bucharest or Brasov). The event that will take place this May in Arad is already SOLD OUT.

A number of significant Romanian companies saw the opportunities that come from participating at DEMO PLAST VEST in Arad and meeting with the producers.

Don't miss out! Book your booth at DEMO PLAST VEST!


More details:
Tel: (+40) 753 317 247
E-mail: [email protected]
Site: www.demoplast.ro

Adrian SANDU, The Association of Automotive Manufacturers of Romania (ACAROM), General Secretary and Member of the Board of Directors
''ACAROM and Tehnic Media have been cooperating for more than 5 years, supporting and promoting events and media materials that are relevant for the 160 members of our association. We welcome the initiatives of putting together industry fairs, in Bucharest as well as in other regions of Romania such as Arad. The metalworking and plastic processing, the transforming them into high-tech components, is now a major challenge for the automotive companies, who are faced with various constraints (quality, precision, weight, environment, etc.) when it comes to both design and manufacturing process. This is why we want the new brand DEMO PLAST fair to become a key event that will showcase the latest generations of machines, technologies and solutions. Moreover, we believe Demo Metal is already an established event that sizes up the target level of the metal processing sector.''

Prof. Dr. Eng. Ion SERES, General Manager PLASTOR SA Oradea
''I find that having DEMO PLAST in the west of the country is beneficial and comes at a most opportune time of the year, not because of the distance from Bucharest, but particularly its proximity to a very dynamic and developed industrial area. DEMO PLAST will thus benefit from the support of a very strong industrial community and a geographic position that enables it's international opening. We find it reassuring that, for the first time, the initiator and organizer is a knowledgeable stakeholder of the plastic processing industry, as T&T is the first and only magazine that addresses the Romanian plastic processing sector. It is a technical magazine that I appreciate and I have been cooperating with since it started, 15 years ago. I find T&T's efforts to be beneficial and worthy of support from all the companies and associations aiming for the consolidation of a professional community of the Romanian specialists in the field of plastic processing.''

Bogdan NESTOR, General Manager WITTMANN BATTENFELD ROMANIA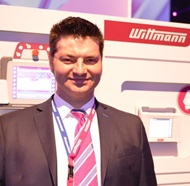 ''DEMO PLAST VEST - A new fair? I wondered, just like any other company in the plastic industry. I struggled with the idea, I discussed it with my co-workers, I asked other companies and/or people from the industry whose opinion we should all take into consideration. It was difficult! I felt a lot of pressure. Everyone had their eyes on us and was waiting for us to make a decision that they could follow. I was already tired. I woke up one morning, came into the office, brewed my coffee, smelled its nice aroma, and instead of feeling the same pressure as the day before, all I felt was joy!!! It was actually the first time when I felt free!!! The first time when I could choose which fair to go to!!! WOW!!! It is awesome to have 2 fairs dedicated to the plastic industry, for the first time in Romania!!! ...Competition is always good for customers and even suppliers - it won't let them sleep. The same applied to the fairs too: as soon as DEMO PLAST appeared in Arad, in an area filled with plastic companies.
…I closed my eyes! It was almost like I was hovering over Romania's map and I was headed towards Arad. I immediately started seeing: YAZAKI, VDS, SCHLEMMER, HUF, MAHLE, WEIDMULLER, SOL PLUS, VALEO LIGHTINING, ELBA, DURA AUTOMOTIVE, INTERPART, LEMAN, MGI COUTIER, SWOBODA, PLASTEC, REINERT, VERNICOLOR, CAPIROM, and of course, PLASTOR. Ooh…Lugoj…HELLA, SCHIEFFER and Lipova – SUMIDA, OESCHLER…. …Orăștie, FILPLAST, CHIMSPORT, ALSECA, Cluj: THOMAS, NAPOCHIM, DE LONGHI…yes, there's some plastic over there, an area that keeps on growing while providing plenty of opportunities, something new, desirable, to try…
I hope to see as many of our customers as possible, because I'd like to offer them something even more special. And I'm also thinking that people are more relaxed and open to new ideas during summer, in June, than they are during the chilly autumn months. Hence, we chose ARAD and June with its long summer days and perfect night temperatures. What will be our technical and artistic displays? We'll share that with you as the fair approaches, and anyway, those who know us, know we won't show-up at the fair empty-handed!''

Gelu MATEESCU, General Director Leman Industrie, initiator of The Centre of Competences in Plastics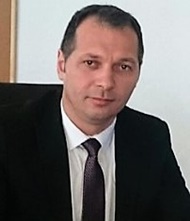 "The Timisoara Centre of Competences in Plastics, via Profimatt association for professional orientation and training,welcomes the initiative of Tehnic Media to organize an exhibition in the field of plastics processing in the West of the country, in Arad.
In the West of the country, there is a high concentration of manufacturing companies active in the field of processing plastics and other associated materials, being a representative region of Romania. More than that, the sector is continually growing and becoming ever more competitive. The Centre of Competences in Plastics supports the companies in the field to increase their employees' competences via professional trainings and improve competitiveness via research and development projects and process optimization. The debates and meetings to take place at DEMO PLAST VEST will help us understand the needs of the companies and will equally help companies to find solutions in order to improve competences and competitiveness. We are waiting for you at DEMO PLAST VEST!".


Raluca CIBU-BUZAC, Director for Regional Politics and Internalization Office, Consortium Coordinator Ro-Boost SMEs
"The Agency for Regional Development West, as the coordinator of Enterprise Europe Network for the western and south-western regions of Romania, and AUTOMOTIVEST Cluster appreciate the initiative of Tehnic Media to join the DEMO METAL VEST and DEMO PLAST VEST 2017 events. Also, we are delighted by the scale and professionalism of these two events, as we noticed with the organization of Tehnic Media events of the previous years. From our point of view, we shall be happy to take part in both events, to organize a brokerage event within DEMO PLAST VEST, to be present with the EEN offer of services and to present a few examples of the impact these services may generate for the companies in our region".



Peter HOCHMUTH, President, Banat German Economy Club Association
"Our members are very interested in this initiative. It is for the first time when two important fairs take place in the field of technology and industry – metal and plastics– West of the country, inArad. Many of our members, and not only, work in these fields. Being one of the most important industrial regions of Romania, the Banat hosts hundreds of enterprises focused on the industry, national and international small and medium sized enterprises, for which such events are a very good opportunity to exchange know-how. We wish good luck to the organizers and participants alike!"

This message is sent by TEHNIC MEDIA, editor of T&T – Tehnica si Tehnologie magazine. It can't be considered as spam, because it contains the contact details of the sender and unsubscribe method, and is not involved financially and is just for information.
Your e-mail is included in our database for one of these reasons: you are our reader, we have provided contact details to one of the specialized events you participated, it was found on a public website or it was published in one of the business guides existing in Romania.
If you wish not to receive this newsletter in the future, please use the unsubscribe link.