Technologically, plastics recycling is not a problem at all today. In-house recycling has now become established right across industry. For plastics processors who work with pure-grade raw materials, the waste-free factory has become commonplace. And for post-consumer wastes, there are increasingly mature reutilisation strategies, enabling the regranulate produced with them to substitute virgin material without problem.
According to PlasticsEurope, the association of plastics producers, plastics consumption in the European industry as a whole came to 47.8 million tonnes, with about half, amounting to 25.8 million tonnes, being collected after use. PlasticsEurope investigated the collection rates in the 28 EU states plus Norway and Switzerland and found that there is still strong variation.
Although a ban on the landfilling of plastics residuals is meanwhile been announced in nine countries, the proportion going to landfill in the other countries is still very high at as much as 70 per cent. Overall, of the total collected residuals in Europe, about two thirds are now reutilised, while 30.8 per cent are landfilled. Of the plastics residuals that are reutilised, about half – 7.7 million tonnes – is recycled and the rest is incinerated to generate energy.
The main fractions are polyolefins
 With about 9.5 million tonnes of PP, 8 million tonnes of PE-LD and PE-LLD and 6 million tonnes of PE-HD and PE-MD, polyolefins are by quantity the plastics most used in Europe, collectively accounting for about half of overall consumption. If these are pure-grade residues, they can be efficiently processed, so there are numerous recycling businesses devoted to polyolefin recycling.
The situation is more complicated when PE and PP are mixed, as they are very hard to separate because of their similar density, and NIR sorting processes are today state of the art. However, PE and PP can also be processed together into high-grade products.
PET recycling established but with room for expansion
PET, most of which is used for the production of bottles, accounts for almost 7 per cent of total plastics consumption per year in Europe or about 3.1 million tonnes. Overall, the 30 countries of Europe achieve an average collection rate of 57 per cent. In 2014, for example, 1.75 million tonnes of post-consumer PET wastes were collected. However, it is almost exclusively bottles that are collected, usually in dedicated collection schemes. Although it was originally the goal to return the collected bottle flakes to bottle production, the industry has sought and found customers in other areas. For film/sheet manufacturers, post-consumer bottle flakes have become increasingly interesting, and in 2014 they used the biggest share – 34 per cent – of the collected residuals in their branch of industry. Almost 30 per cent of the flakes were used in blow moulding applications, 26 per cent in the fibre industry and the rest for packing straps and other products.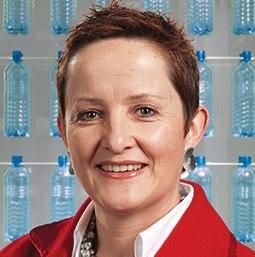 "Production of the regranulate required in injection moulding applications for the production of new bottles for food or non-food contact is currently low because of the sharp drop in the price of virgin material," explains Elfriede Hell, Head of Recycling Technology at Austrian plant manufacturer Starlinger. Unlike used bottles, post-consumer trays and films usually end up being incinerated for energy or even on landfills. "But things have recently been changing. We have a number of customers interested specifically in projects for recycling trays and films," Hell stresses.
PVC recycling achieves high utilisation rates
The recycling of PVC, a material whose outstanding mechanical properties have made it indispensable – particularly in the building sector, where it has a 70 per cent share, but also in the packaging, furniture and medical technology segments – has developed very encouragingly in the last few years. The recycled PVC is put to use particularly in building applications, e.g. in new profiles and pipes, as well as in horticulture and agriculture.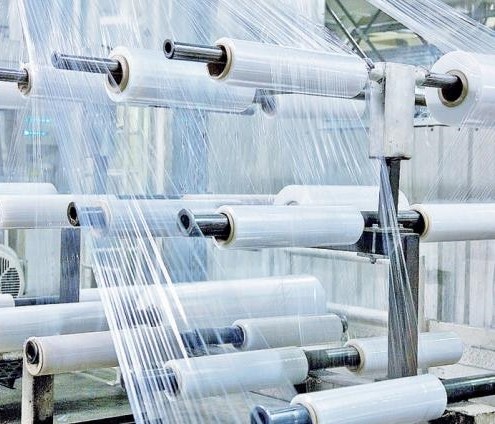 Photo: Polifilm
Composites are often unsuitable for recycling
While post-consumer products made of pure polymers lend themselves well to reprocessing, the situation for composite products consisting of two or more raw materials is entirely different. Dr Michael Scriba, mtm-plastics Managing Director and member of Plastics Recyclers Europe (PRE) and of Bundesverband Sekundärrohstoffe und Entsorgung [Federation for Secondary Resources and Disposal] (bvse), is therefore calling for the recycling-friendly design of the packages that contribute a large proportion of post-consumer wastes. Here it is particularly important to dispense with fillers like chalk in PE and PP packages as far as possible, avoid plastics-paper composites, use pigmentation in moderation and make sure that the density of all products is well clear of 1 g/cm³ so that separation on the basis of density is possible.
At the same time, efforts are being made in the industry to develop reutilisation strategies for mixed wastes. Trenntechnik Ulm GmbH is pursuing a very exciting approach here in developing a chemical separation process for PE/PA composite films and building a unique production plant with a capacity of 10 tonnes per day.
Summary
Although recycling is a much-discussed topic today and is also very much alive in many projects in the plastics industry, experts are repeatedly confirming that too little waste material is used instead of virgin material, yet both the collection systems and technical feasibility have developed enormously.  
It can therefore be assumed that recycling rates will continue to rise in the years to come, as there is strong demand for recyclate for both environmental and economic reasons. Marine litter, i.e. the pollution of the seas with wastes, has internationally highlighted the irresponsible treatment of wastes particularly in newly industrialised countries and lent added strength to the demands of other consumers for the sustainable treatment of resources.
Open photo: Trenntechnik Ulm